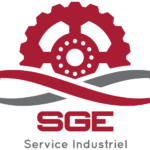 Website SGE Service Industriel
SGE operating industrial service provider, with it's headquarter located in Casablanca, Morocco. SGE provides contracting services to both public and private sectors. Our broad range of services enables us to provide complete and responsive services such as: Engineering & Consulting, Construction, Project Management, Equipment selection/Supply/Installation, Operation & Maintenance, Training The above services are provided in the following fields: Building, Civil Works, Mechanical Installation "Machine & Plant installation, Structural steelwork installation, Piping installation, welding works, insulation works" Electrical Installation "Cabling & termination work, laying of power & control cables, installation of Electrical cabinets, Installation of measurement and control systems, Installation of transformers & generators etc. Industrial activities.
Job Description
A civil engineer completes construction projects by preparing engineering design and documents; confirming specifications
Essential Functions (may include but are not limited to):
Independently evaluate, select and apply standard engineering techniques, procedures, and criteria on moderately complex projects.
Designs construction projects by studying project concept, architectural drawings, and models.
Prepares engineering design by collecting and studying reports, maps, drawings, aerial photographs and tests on soil composition, terrain, hydrological characteristics, and related topographical and geologic data.
Determines project costs by calculating labor, material, and related costs.
Prepares feasibility study by analyzing engineering design; conducting environmental impact studies; assembling data.
Prepares engineering documents by developing construction specifications, plans, and schedules.
Confirms adherence to construction specifications and safety standards by monitoring project progress; inspecting construction site; verifying calculations and placements.
Fulfills project requirements by training and guiding operators.
Maintains operations by enforcing project and operational policies and procedures.
Provides engineering information by answering questions and requests.
Complies with local legal requirements by studying existing and new legislation; anticipating future legislation; enforcing adherence to requirements; advising management on needed actions.
Maintains project data base by writing computer programs; entering data; completing backups.
Contributes to team effort by accomplishing related results as needed.
Essential Qualification
Electrical Engineering degree.
5+ years of experience.
Proficiency in Auto CAD, required.
Knowledge of related building codes and related industry standards.
Experience in industry or Road works and Highway projects
Proficiency with MS Outlook, MS Excel, and MS Word.
Required Knowledge, Ability, and Skill
Familiarity with EIA Industry standards.
Proven ability to resolve complex design problems.
Effective communication skills with a team-orientated attitude.
Ability to work cooperatively and collaboratively with all levels of employees, management, and clients.
Ability to organize work, set priorities, meet critical deadlines, and follow-up on assignments with minimal supervision.
Ability to maintain confidentially and protect privileged client information and documents appropriately.
Knowledge of correct English & French languages usage including spelling, grammar, punctuation, and vocabulary.
Licensure
Valid drivers' license and maintenance of satisfactory driving record.
Supervisory Responsibility
Supervisory skills are preferred.
Telecommuting
Due to the collaborative nature of this position and accessibility for in-house client meetings, it is important that this position physically work in the office and on Site.
Physical Requirement
While performing the duties of this job, the employee is regularly required to talk or hear. The employee frequently is required to sit for long periods of time. The employee is occasionally required to stand; walk; use hands to finger, handle or feel; reach with hands and arms; climb or balance; and stoop, kneel, crouch, or crawl. Specific vision abilities required by this job include close vision, color vision, and ability to adjust focus.
Equal Employment Opportunity Employee
SGE. provides equal employment opportunities (EEO) to all employees and applicants for employment without regard to race, color, religion, sex, national origin, age, disability, or genetics. In addition to local law requirements, SGE complies with applicable local laws governing nondiscrimination in employment at every location in which the company has facilities/construction sites. This policy applies to all terms and conditions of employment including recruiting, hiring, placement, promotion, termination, recall, transfer, leaves of absence, compensation, and training.
SGE expressly prohibits any form of workplace harassment based on race, color, religion, gender, sexual orientation, gender identity or expression, national origin, age, genetic information, disability. Improper interference with the ability of SGE's employees to perform their job duties may result in discipline up to and including discharge.
expression, national origin, age, genetic information, disability. Improper interference with the ability of SGE's employees to perform their job duties may result in discipline up to and including discharge.
If you are interested in this position, we look forward to your meaningful online application!